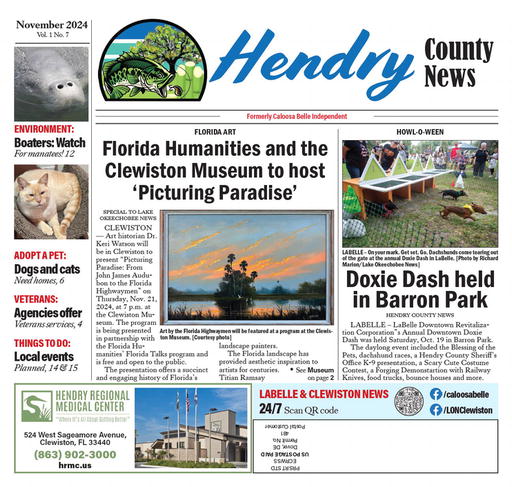 What is now the Caloosa Belle began as the Caloosahatchee Current, a publication established in 1922 to help bring about the establishment of Hendry County. In 1923 Hendry County was, indeed, carved from the eastern side of Lee County.
The county seat is LaBelle, which is situated in the western side of the county on the Caloosahatchee River. Hendry is the No. 1 citrus growing county in the state, but development is certain. This area holds promise as an eco-tourism destination and is also a sportsman's dream with fishing, hunting and boating within easy reach.
In addition, if you can't resist the occasional lure of the bright lights, both the East and West Coast of Florida are within easy driving distance.
Contact
Address: PO Box 518, LaBelle, FL 33975
Phone: 863-675-2541
Email: Visit our contact page for a complete list of email contacts.
Social Media: Follow us on Facebook and Twitter.
Marketplace: Shop ads from our print edition.
Print edition
Published every Thursday; mail subscriptions and single copy sales. Subscriptions by mail are $120 annually. Visit our online subscription center for more information.
E-newspaper
Our e-editions (available world wide) are $13 per six months or $26 per year. Try a free demo of an electronic edition.
Advertising
Classified Advertising: FREE online classifieds. No limit on the number of ads. Up to 400 words and four photos free. Many options to upgrade your ad or publish in print. You can submit your ad online or send email to our classified team for more information.
Display advertising: Contact our sales team or our billing team, or download a rate card for information about this and other Independent Newsmedia Inc. publications in Florida.
Archives
The Caloosa Belle's online archive contains staff-written and other selected articles from 2007 to the present. Searches are free. You may purchase individual articles for $2.95 or select a package for multiple articles.